Alexandru, A 90-year-old watchmaker continues to repair time in his workshop, punctuated by sensorial recollections t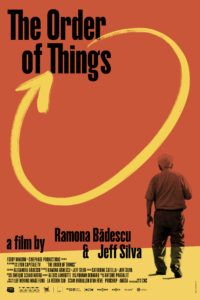 o his grand-daughter about his years as a political prisoner during the Romanian dictatorship. An observational film about contemplation, poetry of the routine, resilience and the echoes of time.
On one hand, The Order of Things is a portrayal of slowness, fragility, order, aging. The calm and methodical daily life of Alexandru, an old provincial watchmaker who, at the age of 90, diligently continues to walk across his small town in southern Romania to reach his modest workshop. Alexandru continues the repairing of watches and clocks of a small community at his own tempo, every day, following a tradition that has been handed down from father to son for several generations. On the other hand, the film is  a description of horror, secrecy, denial. An account of a buried and taboo Romanian memory: that of the deportation of tens of thousands of political prisoners to labor and internment camps by the regime of Gheorghe Gheorghiu Dej from 1944 until the mid-50s. The Order of Things weaves these elements together into a dialogue that speaks at once to the past and to the present Romanian society.