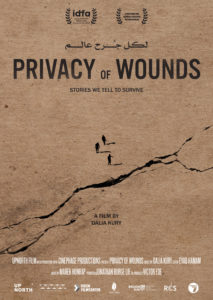 How can Syrian's stories be told with authenticity?
It is the question that Jordanian filmmaker Dalia Kury tried to answer in Privacy of Wounds. She reconstructed a prison cell in a basement in Oslo, in which three Syrian ex-detainees agreed to lock themselves up. They spent three days there, sharing their past experience of detention in Syria, constantly filmed by cameras without operators.
They recount their most appalling memories: the death of their fellow detainees, the torture techniques, the growing feeling of abandonment…
Without lamentation, they express it through poetry, humor, political debate or personal anecdotes. It is in this intimacy made of shared experiences that Dalia Kury finds the authenticity she was looking for.