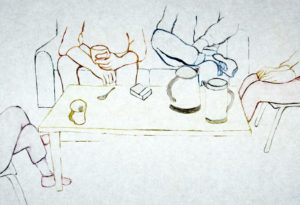 – Tristan Thil –
They don't like the word « schizophrenic ». They'd rather say « voice hearer ».
Virginia started a group therapy for them. Twice a month, they get together to discuss this illness considered to be incurable, and whose name is for many people the very synonym of madness.
With Virginia, they talk about what it's like to live with voices in one's head. They share experiences and ideas on their common struggle for a better life, in spite of the disorder that will probably never leave them alone.
A disorder Virginia — unexpectedly — also suffers from.